website redesign to drive nonprofit engagement
Feather River Land Trust is a nonprofit in Northern California working to conserve one of the state's largest watersheds. 
So much has changed since FRLT launched their previous website in 2012—the scale and impact of their conservation work has doubled, and the organization and the support they needed to accomplish their goals have, too. Additionally, web design has evolved dramatically and FRLT needed a responsive website and a new strategy for engaging visitors. 
Before launching into designing the new site, FRLT recognized they first needed to learn more about their target audiences. So we spent six months on user research before moving into copywriting and UX design. I also refreshed their logo and visual identity. 
 Stakeholder interviews
Online surveys

User group development

Personas 
Competitive analysis
Content audit
Core modeling
Card sorting
Wireframes + prototypes

Web development

SEO templates + training
WordPress guide + training
Custom WordPress site

Built in 2020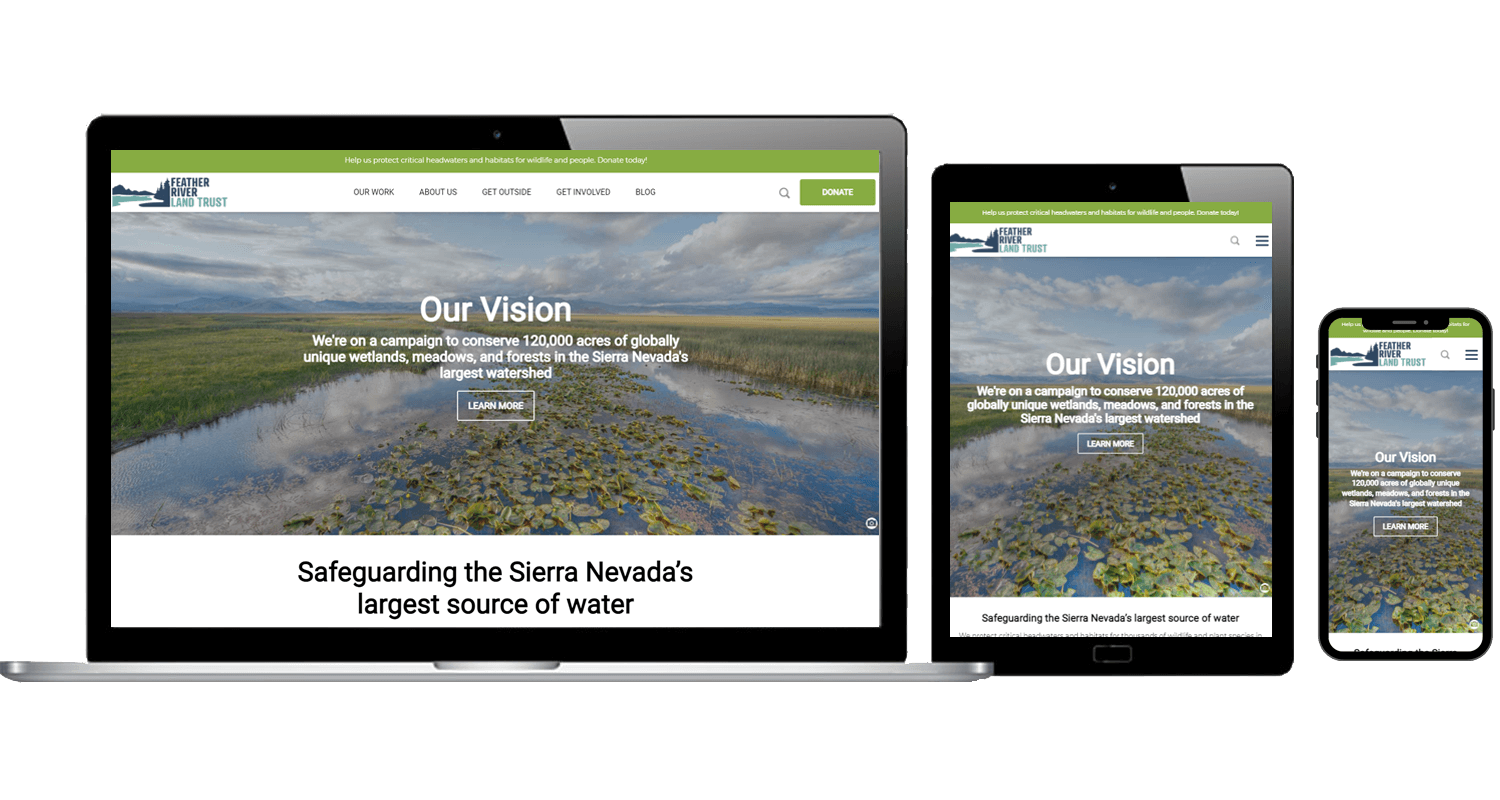 content driven by user research
FRLT's primary goals in building a new website were to increase the public understanding of the nonprofit's impact in the region and raise awareness of the importance of the Feather River Watershed. In order to accomplish this, we needed to first to identify and learn about FRLT's target audiences. We did this through a multi-pronged research approach:
Focus group and interviews with key stakeholders
Two online surveys reaching 300+ respondents
Interviews with representatives from target audiences
Personas of our target audiences to ensure a user-centered design
demonstrating value of the watershed
We incorporated infographics that offer a snapshot of the watershed's importance. An interactive map focuses on hydrology and shows the watershed in the context of the state—to help out-of-area audiences (donors) understand the value of the region and the need to prioritize and fund conservation.
conveying impact on a regional level
Since the watershed is massive (2.3 million acres), we broke it into three regions in order to highlight the conservation features specific to each area, to underscore their value, and to showcase the properties conserved in each region. These regions happen to align with FRLT's target audiences' interests, too.
In addition to protecting the land, FRLT also works to restore people's relationship with the land. So FRLT's website aimed to get local folks out to visit their public preserves while also capturing day trippers from Reno and Chico—the closest cities to the watershed. 
We featured an interactive map with the 5 preserves on the Get Outside page for visitors to easily identify the preserve locations. Each public preserve has a dedicated page with seasonal activities, best times of the year to visit, downloadable preserve maps, photos, and visitation guidelines.
We created clear, customized calls to action on every page to encourage users to learn more, subscribe and donate. The light green is used across the website for all donation-related content, and teal and light blue are used for volunteering and connecting. 
We designed an editable banner (content, color and URL) at the top of the site for FRLT to use when running fundraising campaigns. And lastly we customized the donate page as best we could within the confines of Razor's Edge embed form (owned by Blackbaud—the worst fundraising software on the market).
As with all websites I design, the mobile experience is an important part of the design process. We incorporated horizontal swiping on infographics, blog and preserves cards,  and condensed many elements to save important vertical real estate.
more ux + web design projects
have a website that needs work?