new website for an evolving startup
Phoebe is a NYC-based startup supporting women in late pregnancy and early postpartum.
We were just two weeks away from launching Phoebe's new site when it became apparent that COVID would be a long-term disrupter to their business model. They were forced to pivot from in-person community and guidance to 100% virtual support. We quickly shifted messaging and added ecommerce so Phoebe could open membership to expecting moms across the country.
Competitive analysis
User group development
Personas + journey maps
SEO strategy
Wireframes + prototypes
Usability testing
Copywriting
Web development
Custom WordPress site

Built in 2020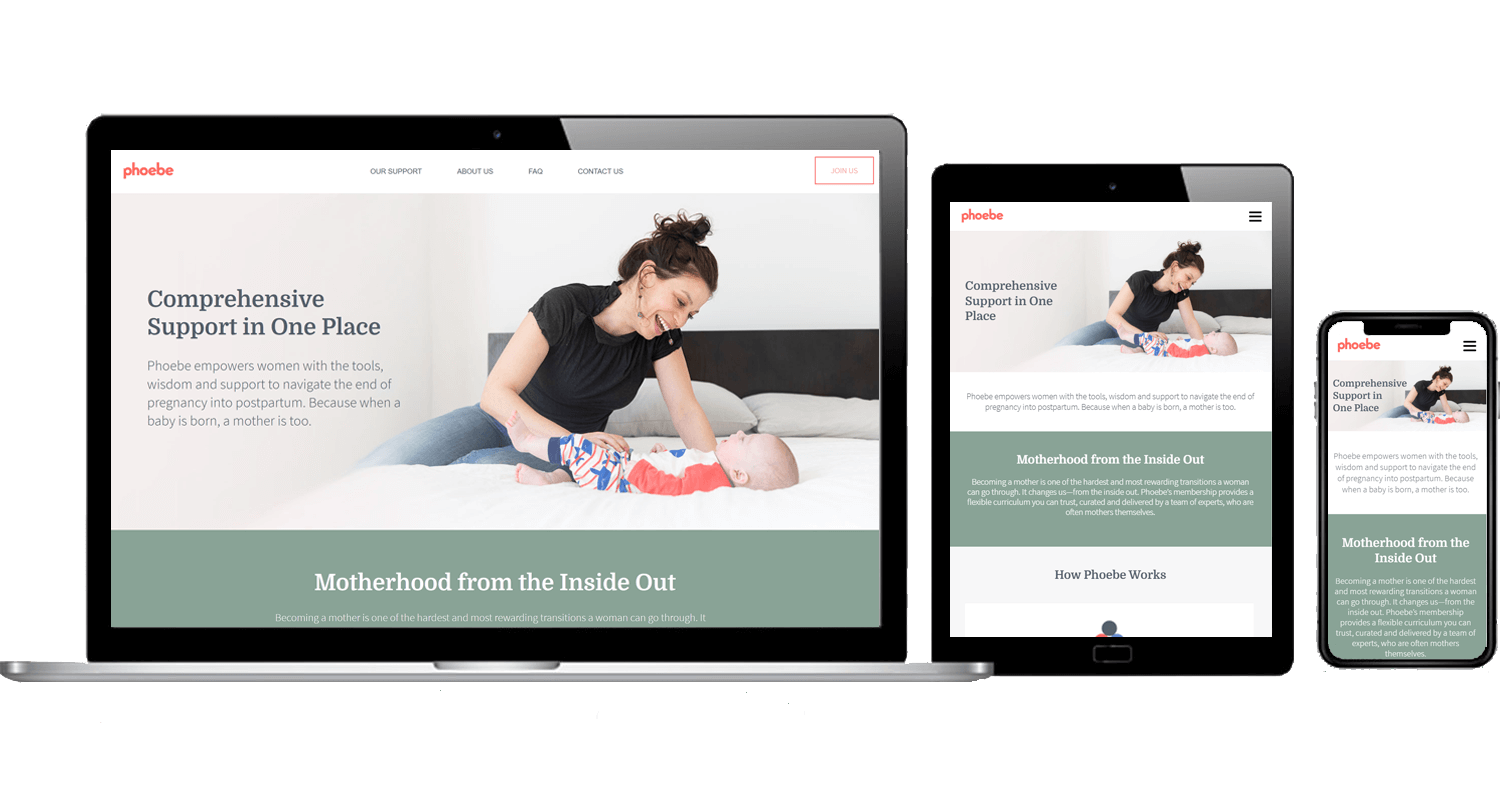 We had a small budget for user research but enough to develop personas and journey maps. These exercises helped answer unknowns about our target audiences and uncover potential pain points.
A few months after the site launched, we performed usability testing with pregnant women in their third trimester that dramatically increased our understanding of prospective members' concerns and needs.
converting visitors to customers
One of Phoebe's challenges is that their product has a high price point. It's extremely competitive and more cost-effective than other products on the market, but many first-time pregnant women don't know what they'll need until they've had their baby. 
We sprinkled content-relevant testimonials throughout the website to provide social proof from members that Phoebe is worth the investment.
We also designed an extensive FAQ page, grouped by category to make it more user friendly, so visitors can quickly find answers to their questions. We also included swipeable FAQ cards on nearly every page to prompt visitors with answers to questions they may not even know they have.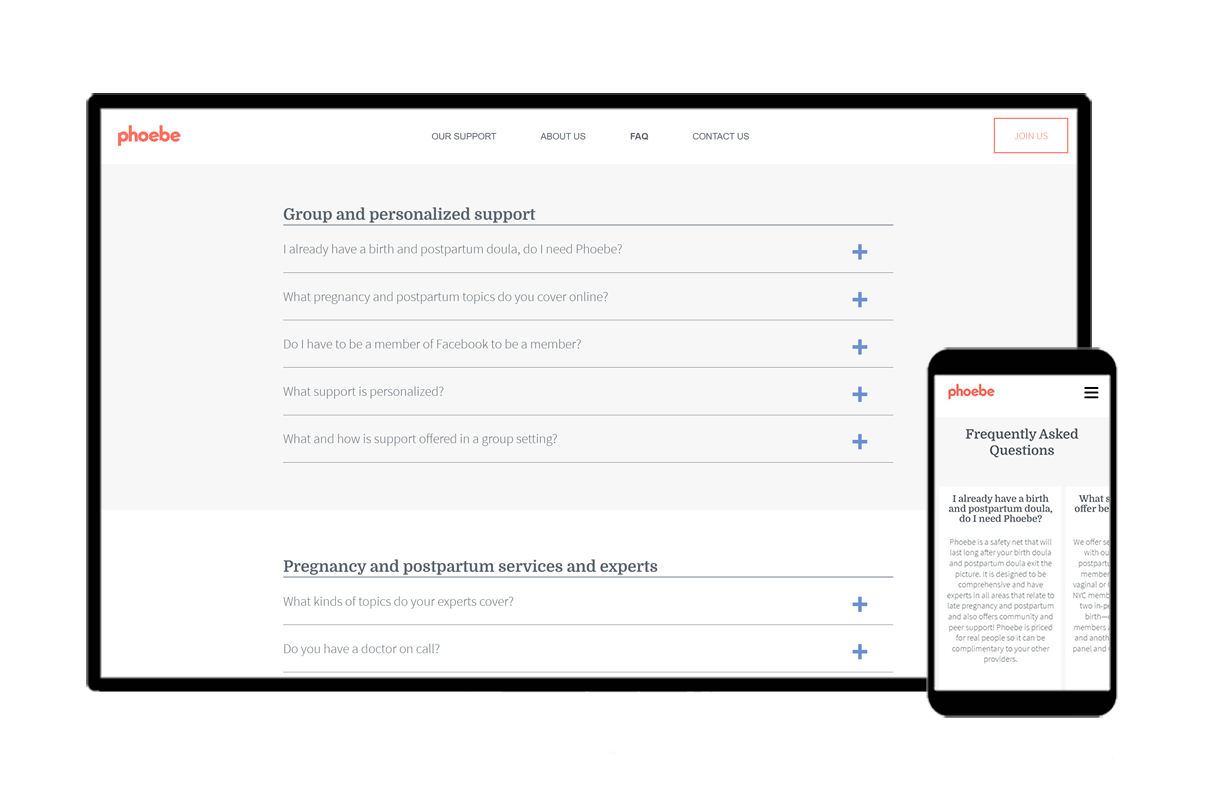 As with most websites, mobile visitors account for over 50% of traffic, and even more—up to 90%—when Phoebe runs ad campaigns. We incorporated horizontal swiping and condensed many elements to save vertical space so visitors aren't overwhelmed with information or feel like they're on an endless scroll.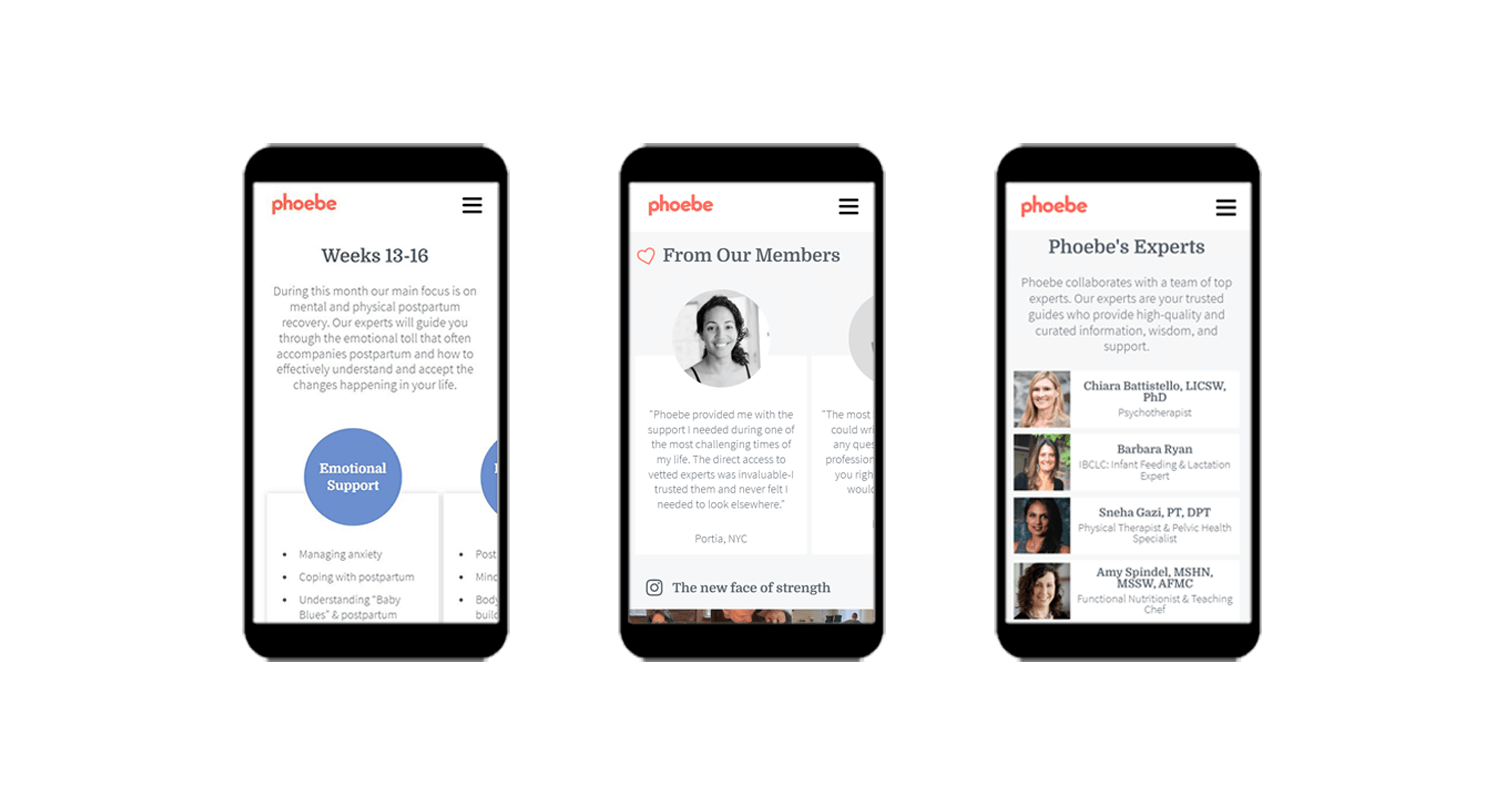 As Phoebe evolves, so does their website. I chose WooCommerce as our ecommerce platform to have flexibility to expand Phoebe's product offerings. Since launching seven months ago, we've added a trial membership, subscriptions to allow for month-to-month memberships, and classes that members can register for online.
I am grateful to have Phoebe as an ongoing client to continue to optimize and adapt their website to the startup's—and mom's—evolving needs. 
more ux + web design projects
have a website that needs work?